Wooden Shelves and Sections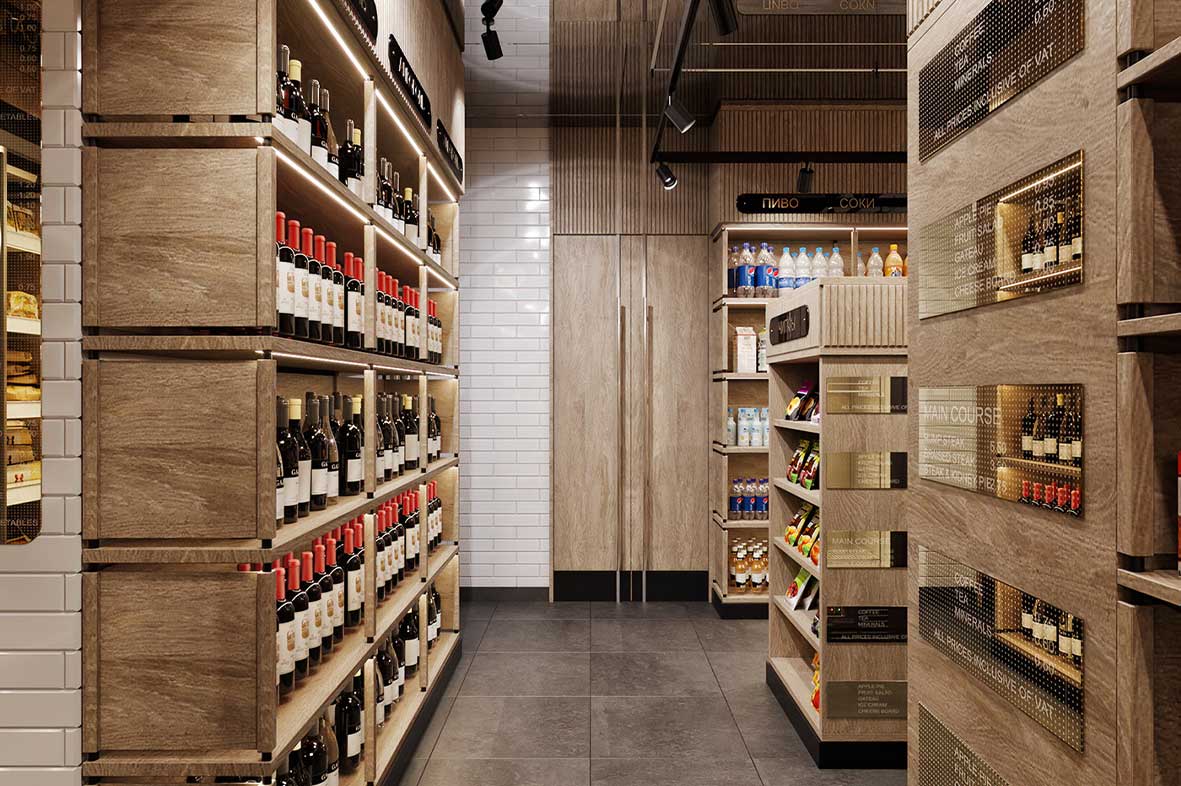 Highlight Naturalness with Wooden Shelves and Sections
Wooden shelves and sections, which are considered as an aesthetic element visually, help to create the perception that the products presented on them are also natural, as they display a natural appearance.
These products, which are preferred primarily in the market aisles, are also preferred due to their hygienic and easy-to-clean features. You can place display products, gourmet, delicatessen, chips racks, vinegars, pickles and all other food products you can think of in wooden shelves and sections that offer aesthetically advantageous options.
By carrying wood, which is a natural material, in the markets, you can create a much more positive image in the eyes of the consumers. Wooden shelves and sections, where you can increase the value of the products on display, easily adapt to the general decoration of the environment.
In order to create an aesthetic appearance, you can choose wooden shelf and section options in your market and in all other stores where you sell food products.



Departments Enriched with Other Materials
Shelves and sections made of wood can have a completely different look with metal lines. The products, which are in perfect harmony with the other materials used in the construction of shelves and departments other than wood, provide the environments with a customized and very aesthetic appearance.
With the right lighting, you can have tricks that will attract the attention of consumers and direct them to purchase. By reinforcing long-lasting wood with paint, you can enable you to exhibit your products for a much longer time.
These products, which know no limits in creativity, can be standard production and special drawings according to the dimensions of the area to be applied. Offering quality and aesthetics together, wooden shelves and sections help the environment to have a completely different look with different color and texture options of wood.
Wooden shelves and sections, which allow the markets that generally create a cold perception among consumers, to be transformed into a warm and almost living space, adapt to markets of all sizes and other food stores.
Special Project Applications in the Departments
You can reach all kinds of department vehicles in Edita Architecture, where special projecting and implementation processes are carried out. If you wish, you can use the products that you can choose as portable, even when you change stores in the future, without any problems.
Not only in the food industry; wooden shelves can be used in sections such as retailing, stationery, hardware. These are among the most preferred products in recent years, thanks to their elegance and functionality. Shelves and sections consisting of different products such as shelving units, feet, trays, hats, inner shelves, shelf caps, front closures, support and back panels are prepared at scales suitable for your business and attract the attention of consumers with their unique designs.
These products, which increase the value of the products and strengthen your brand image, increase your store revenues in the short term, help the materials you want to display to have a much more aesthetic appearance.
Inspiration of Simple and Strong Wood
Thanks to its simplicity and sincerity, wooden shelves, which take their strength from naturalness, are also very advantageous for employees as they are easy to clean. These products, which add a friendly atmosphere to the environments, represent hygiene and naturalness. Thanks to this feature, wooden shelves and sections, which are preferred especially in markets, can be produced in many different forms from classic to modern, from avant-garde to retro.
Edita Architecture helps you create the environment you want by understanding your expectations in the best way. Edita Architecture, which you can choose for concept places, is at your side while strengthening your brand value with its rich design options that reveal the perfection of the image.
By choosing wooden aisles that never go out of fashion, you can directly meet your gourmet tastes with consumers. We are at your side for studies that will expand your customer portfolio with our services offered in accordance with the needs of stores of all sizes and styles.
With implementations that will strengthen your business and increase your income in the short term, you will not only create areas where consumers tend to buy, but also create areas where staff will be happy to work.
Visual elements that will increase everyone's energy, when combined with functionality, allow you to gain efficiency from the environment as a whole. With Edita Architecture, the meeting point of quality, speed and ergonomics, you can have the right implementation that will enrich your business life. Shelves and sections specially designed for your business will reinforce your uniqueness by revealing your difference at first glance.