Office Design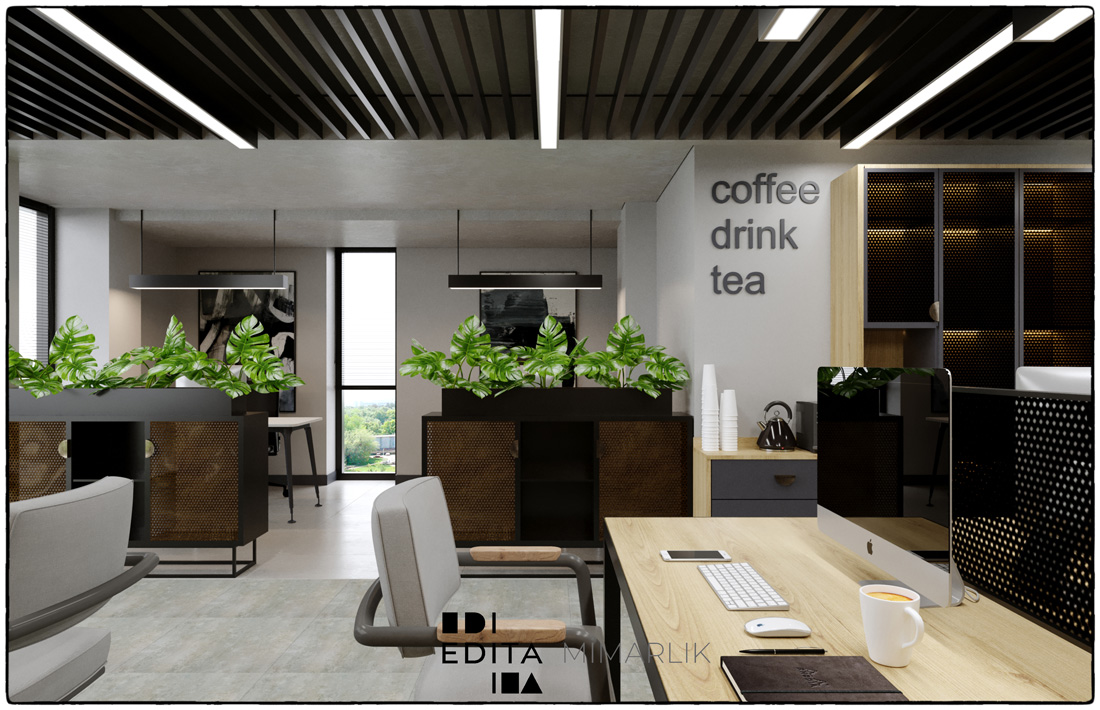 Reflect Your Style with Office Design
Offices have an important place in today's business world. Offices, which have become widespread with the global age, where business practices have changed radically, stand out as areas where almost all the work of a company is carried out.
Offices, which also have the feature of being the places where companies communicate with their customers and suppliers, therefore contribute greatly to the determination of the brand image. For this reason, offices must be designed in accordance with the brand image that is desired.
Design Principles for Office Design
In the visual age, where every object, color or symbol has a different meaning and attracts great attention by people, there are many principles to be followed in order to make successful office designs.
Harmony is at the forefront of these principles, also known as the basic principles of design. The colors, objects or lighting systems to be used in office design should be compatible with each other and complete a whole. In offices where harmony in design is insufficient, problems such as eyestrain, discomfort or aesthetic defects arise.
Another important principle in office design is simpleness. However, simpleness is often confused with simple. However, it is possible for a simple design to be stylish. At this point, it is important to avoid the use of unnecessary objects and exaggerated applications.
Balance, one of the important principles of design, expresses the equal distribution of design elements throughout the office. Gathering objects in only one place or trying to draw attention to one side is seen as a design flaw. In offices where balance is achieved, individuals feel more comfortable and are willing to spend more time. Office workers as well as customers are more motivated with a balanced design.
Main Points of Office Design
A detailed study is required to make a successful office design. Success in office design is only possible by harmoniously combining parts, each of which is of particular importance, to form a whole. Below are the important points of office design:
Lighting: Lighting is the first point to be considered in office design. Errors in lighting cause discomfort to customers or suppliers visiting the office and leave the office in a short time. In addition, the use of unbalanced light negatively affects the performance of office staff.
Paint: The impressive relationship between color and human psychology is now known by almost everyone. For this reason, reassuring and relaxing colors should be used in office design. It is also important not to overlook the principle of harmony in cases where more than one color is desired to be used.
Furniture: Furniture has an important place among the elements that make up the face of offices. Furniture made of quality materials can be used for a longer time and looks better on the eye. However, the area of the office should also be taken into account when choosing furniture. Furniture that is more than necessary causes a narrowing of the movement space in the office and a decrease in the feeling of comfort.
Floor: Floor design is among the complementary elements of office design. In order not to distract employees, it is more accepted to use products that do not make noise on office floors.
Ventilation: Offices need to be ventilated at regular intervals and the indoor air needs to be renewed. At the same time, there is a need for air conditioning systems to keep the office cool during the hot summer months. While placing these systems, it is necessary not to overlook the width of the office.
Get Professional Architect Support for Your Office Design
Today, design has ceased to be a job that can be done haphazardly, but has become a field of expertise. Various services are offered by architectural firms for the design processes desired to be made in homes and workplaces, including office designs.
The fact that the design is the specialty of the architects and the businesses designed by the architects look more aesthetic cause the architectural services to become more widespread day by day. However, getting services from the right company is as important as getting architectural services.
Our company, which provides architectural services for your offices with its experienced architect team and customer satisfaction-oriented service approach, makes it easy for you to create your own style in your office. If you wish, you can change the face of your office by contacting our company. It is also possible to have a more detailed idea by examining the previously completed works of our company, which has a rich service portfolio.
Office Decoration
Office decoration processes, which you can choose to increase the performance levels of offices, should be done by professionals. It is important that the environment has a spacious appearance while performing office decoration processes. At the same time, obtaining a healthy working environment is very advantageous for those working in the office. Appropriately designed offices create a positive impact and increase employee productivity.
The first thing that is important in office decoration processes is that the materials you use are natural. It is very important that products used in offices such as coffee tables, chairs and tables are produced from natural materials such as solid furniture. The professional designs you prefer to optimize the working conditions of the personnel can be diversified in accordance with the spirit of the office. You can get office decoration service that appeals to every style you can think of, from modern to classical, from retro to bohemian.
Get Away From Unnecessary Crowds in Office Decoration
You need to pay attention to the decorative products you will use for office decoration. Staying away from unnecessary crowds will bring ergonomics. Since offices are movable areas, you can choose products that can be adjusted and move easily in auxiliary furniture. In addition, you can use heavy furniture such as marble coffee tables in areas such as the executive room to benefit from the harmony of contrast.
In order to transform the working areas into a much more spacious form, the lighting of the environment must be done correctly. Computers placed in a way that can be used comfortably allow employees to increase their self-confidence and work more effectively.
High Comfort with Correct Office Decoration
Comfort is very important for offices. Although you should not compromise on comfort in office decoration processes, you should not forget that these areas are not a home. For this reason, you should choose seats that are as practical as possible. Especially in offices where circulation is intense, glass furniture should be avoided; You should prefer decorative products such as wood, solid and steel.
It is also very important for whom the area to be decorated is used in office decoration processes. For example; Staff rooms must have a library. In order for your employees to feel a sense of belonging in the office, you should leave them in areas where they can personalize. You can also use transparent frames or panels where employees can hang their personal photos as decorative elements by being sensitive about the temperature of the environment.
Modern Office Designs
It is important that your office, where you spend most of the day, is heartwarming and peaceful. Modern office designs, which also increase productivity for employees, have a tremendous impact on focusing on your business. Ideal modern office designs, where employees can feel comfortable and happy, once again reveal the importance of the physical environment, which has important effects on their ability to get work done and focus. Advances in social life, digital revolution, changes in social norms, transformation of workspaces, operations management and developments in the business world have also changed modern office designs.
How Modern Office Designs Should Be?
Chairs, which are among the necessary equipment for a contemporary office decoration, should integrate the elements of comfort and health. Unhealthy and boring chairs for employees reduce one's productivity. Choosing the right chair in terms of waist and back health is one of the most important points for employers. Since each person's body may be different, you can prefer chairs that can lean back slightly and have a movable back. As part of modern office designs, desks have also been transformed.
In order to create healthy working conditions, there should be a space between two employees that will not violate the private space at the desks you prefer. You should not forget that the distance between the computer screen and the eye should be at least 45 cm. In addition, within the scope of modern office designs, it is also important to have free spaces where employees can place their personal belongings in order to feel that they belong to the office.
The Importance of Order in Modern Office Designs
Within the scope of modern office designs, you need to pay attention to order. It is very important that offices are neat and clean. A good lighting system will increase the work efficiency of the employees. You should immediately get rid of bad lighting systems that cause unhappiness, irritability, headaches, and eye strain. We will integrate an adequate and layered lighting system, within the scope of modern office designs, you will both make the space look much more effective and increase the efficiency of your employees.
If possible, you should use large windows that open to the view. Natural light, which is very important in terms of idealizing the general atmosphere, allows employees to feel better. Correct lighting, which is also very advantageous in terms of eye health, also creates a relaxing atmosphere.
Small Office Designs
Ideally designed offices that increase productivity and improve mood are an important factor in success. The ideal design of offices of all sizes ensures that healthy and happy working environments are created. It is possible to create an atmosphere where everyone will feel good, designed as stylish, inspiring, lively and functional, but not every office gives you the freedom to decorate as you wish due to its physical conditions. Offices that are small in size need to be designed much more carefully. Correctly designed small offices allow you to turn the square meter disadvantage into an advantage.
How Small Office Designs Should Be?
The most important factor to be considered in small offices is the choice of lighting. In small offices where you will use light colors, you can reflect the light more and make the environment look brighter. By choosing colors such as pale yellow, sky blue, ivory and white, you can make the offices look much more spacious. In addition, you can add depth to the area by covering the wall with a full-length mirror in a suitable environment.
Mirrors, which allow spaces to appear much larger than they are, are a great savior for small office designs. Another issue you should pay attention to in small office designs is the dimensions of the furniture. Choosing the right size furniture for small office designs allows the space to look both functional and aesthetic. Furniture supported by narrow footrests helps your office appear wider.
Enlarge Spaces with Small Office Designs
You can effectively benefit from every square meter of your office by using vertical spaces within the scope of small office designs. Within the scope of small office designs, you should leave as much floor space as possible. For this, you can choose shelves that are mounted on the table or on the wall to place items and office supplies. Accessories should also be limited in small office designs. Accessories that make it difficult to use the room functionally will create more crowd than an aesthetic appearance.
The general ambiance is also very important for small office designs. Correct positioning of key furniture and operating supplies will be to the advantage of employers, employees and office visitors. If you want to get professional support on small office designs, you can contact us.