Butcher and Delicatessen Design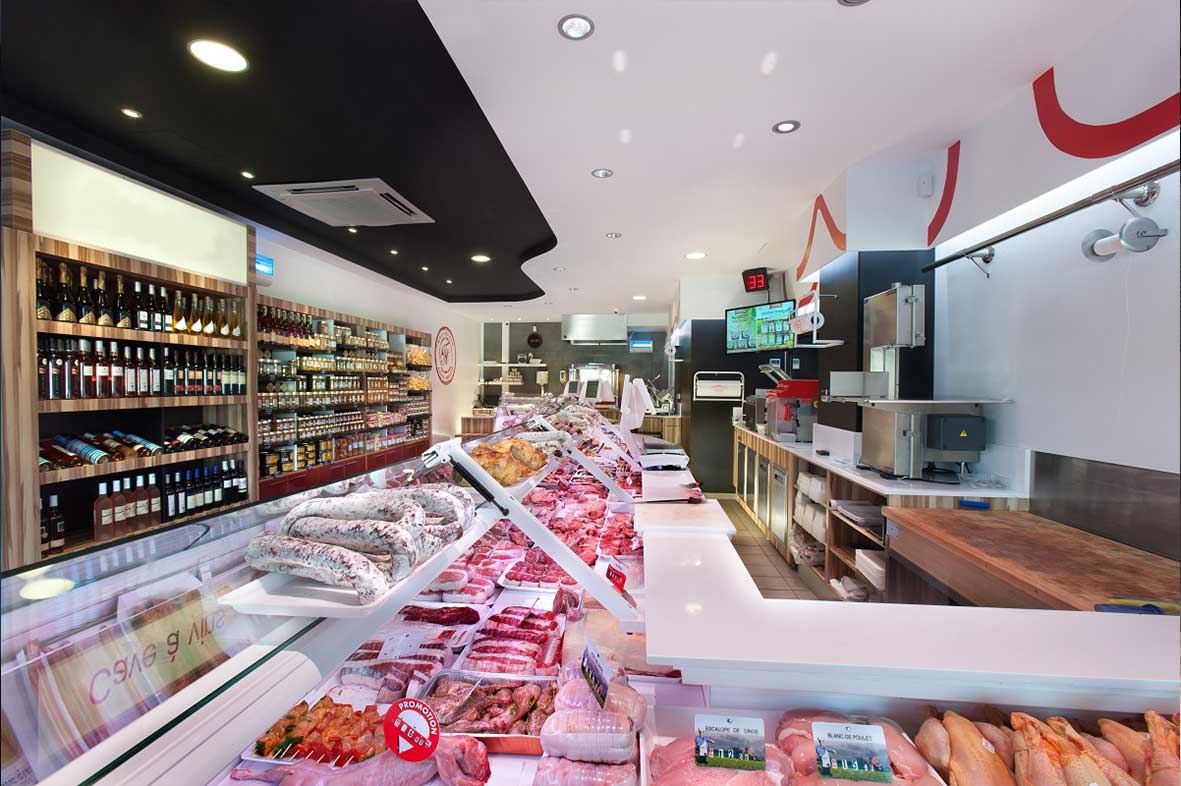 Butcher/Delicatessen Design, Aesthetics and Functionality Together
The butcher and delicatessen design services, which are preferred to offer functionality and aesthetics together in areas where animal foods are exhibited, allow us to present the products you desire with care. Butcher and delicatessen sections, which ensure that animal foods reach consumers without spoiling the cold chain, have features that extend the shelf life of foods.
Functionality is as important as aesthetics in butcher and delicatessen design. There are some points that need to be considered in the design of butchers and delicatessens in order for the foods to have an charming appearance and to extend the shelf life. Bench areas with a semi-open cabinet system should have separate sections for presentation and cutting.
In this way, consumers practically give information about the weight of the food they want, and the personnel perform the cutting and packaging processes in a separate section and present it to the customer quickly.




















Tips to Increase Sales
In butcher and delicatessen design, you can have small tricks that will guide customers to buy. In these areas, you can have design, project design and implementation services that will not spoil the eyes of the customers, consist of thoughtful, well calculated and complementary elements. The points to be considered in these areas can be listed as follows;
Comfort, Furniture: Creating an area where customers entering the area where you sell the butcher or delicatessen can relax and feel comfortable while waiting for their turn or order can leave a positive impression on your workplace. It is extremely important how comfortable the items in this rest area are and whether they contrast with other items in the workplace.
Lighting: The choice of a light that will not dazzle and will not narrow the vision capacity will be the right choice both for the employees who will work in your workplace and for the satisfaction of the customers who come in. With the right lighting, you can ensure that animal products display a more advantageous appearance visually.
Paint: When it comes to paint that is similar to light, it is extremely important to choose colors that will not dazzle and will not disturb people, as in light.
It is necessary to examine the preferences made in the above-mentioned comfort, furniture, lighting and paint as a whole, to reach a conclusion without disturbing results when integrated with each other, and to change some items if necessary. Edita Architecture, which provides professional support in butcher and delicatessen design, allows you to easily achieve the results you want in the butcher and delicatessen area.
Bleaching and Delicatessen Products with Long Shelf Life
You can offer animal products, which are among the indispensable foods of consumers, with maximum hygiene in butcher and delicatessen aisles, where a design suitable for the ambiance of the environment is made. With the right butcher and delicatessen section design, you can give your customers the impression that your products are always fresh.
We realize structures that are resistant to dust, impact, and water with the applications we carry out with long-lasting materials. We choose color and design depending on the size, functionality and other factors of the interior, and we offer you the most functional and advantageous use.
We perform the 3D modeling process before making aesthetic touches to the butchers and delicatessen stores that allow the display and proper preservation of animal products. In this way, store owners have information about how their store will look before the application phase.
Edita Architecture, which allows you to reach the right results with designs that will increase your sales, is always with you to ensure that animal foods have a regular appearance and preserve their shelf life for a long time.
Increase the Value of Butchers and Deli Shops
It's high time to meet Edita Architecture, which brings together usefulness and design with designs that will increase the value of butcher and delicatessen stores. Our architectural firm, which brings together aesthetic and functional elements in butchers and delicatessen stores, which are visited by thousands of people every day, idealizes these areas where animal foods are offered for sale.
Thanks to its easy-to-clean feature, we create a golden ratio of excellence with benches that create great convenience for those working in the field, lighting elements that will highlight the freshness of the products with the right lighting, and much more. If you want to create butcher and delicatessen areas that will enhance the eyes of your customers with a neat appearance, contact us and we will move your business to the point you target together.